Every year on October 31st, Americans celebrate Halloween. Halloween is a celebration of autumn, and many believe it began as a harvest festival and a festival to honor the dead. On Halloween, children wear costumes and go trick-or-treating. Adults and teenagers like Halloween, too. They like to wear costumes to work and attend costume parties. Typical Halloween activities include trick-or-treating, attending costume parties, carving pumpkins, visiting haunted houses, telling scary stories, and watching horror films.
Trick or Treat!

Trick-or-treating is a Halloween tradition. On Halloween night, children dress up in costumes and travel from house to house collecting candy or small toys. The children knock on the door or ring the doorbell, and when the homeowner comes to the door, the children yell, "Trick or treat!" The "trick" is a joking threat to perform mischief on the home if no "treat" is given. Many people decorate their houses and hand out treats to trick-or-treating children.
** HALLOWEEN TIP: If you want to hand out candy, make sure the light is on outside of your house. Children will skip your house if the house is dark.**
Costume Parties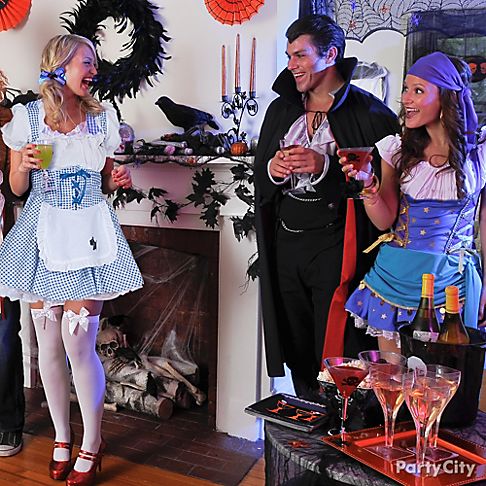 While children often trick-or-treat on Halloween, adults and teenagers often attend Halloween costume parties. Most costume parties require that attendees dress up. Popular costumes include famous people or characters, and they can be interesting, funny, cute, or scary. Usually, the location for the party is decorated in black and orange, the traditional colors of Halloween, and with several scary or fun symbols of Halloween. The hosts often offer Halloween themed food and drinks, and usually, Halloween-themed music is played.
**HALLOWEEN TIP: Join the your classmates and teachers at the ESL Costume Contest on Wednesday, October 31st at lunch time! Wear your best cute, funny, or scary costume!**
Jack-o'-Lanterns

During Halloween, many people carve pumpkins to make Jack-o'-lanterns. To make a Jack-o'-lantern, you cut off the top of the pumpkin, scoop the insides out, and cut holes into the pumpkin. Usually, the holes make a face, which may either be cheerful, scary, or funny. More complex carvings, such as famous people or symbols, are becoming popular, too. The final step to create a Jack-o'-lantern is putting a light inside.
**HALLOWEEN TIP: Do you want to carve a Jack-o'-Lantern? The ESL Office is hosting a Pumpkin Carving event on Tuesday, October 30th, from 2:45pm to 5:00pm Join us and show off your creative side!**